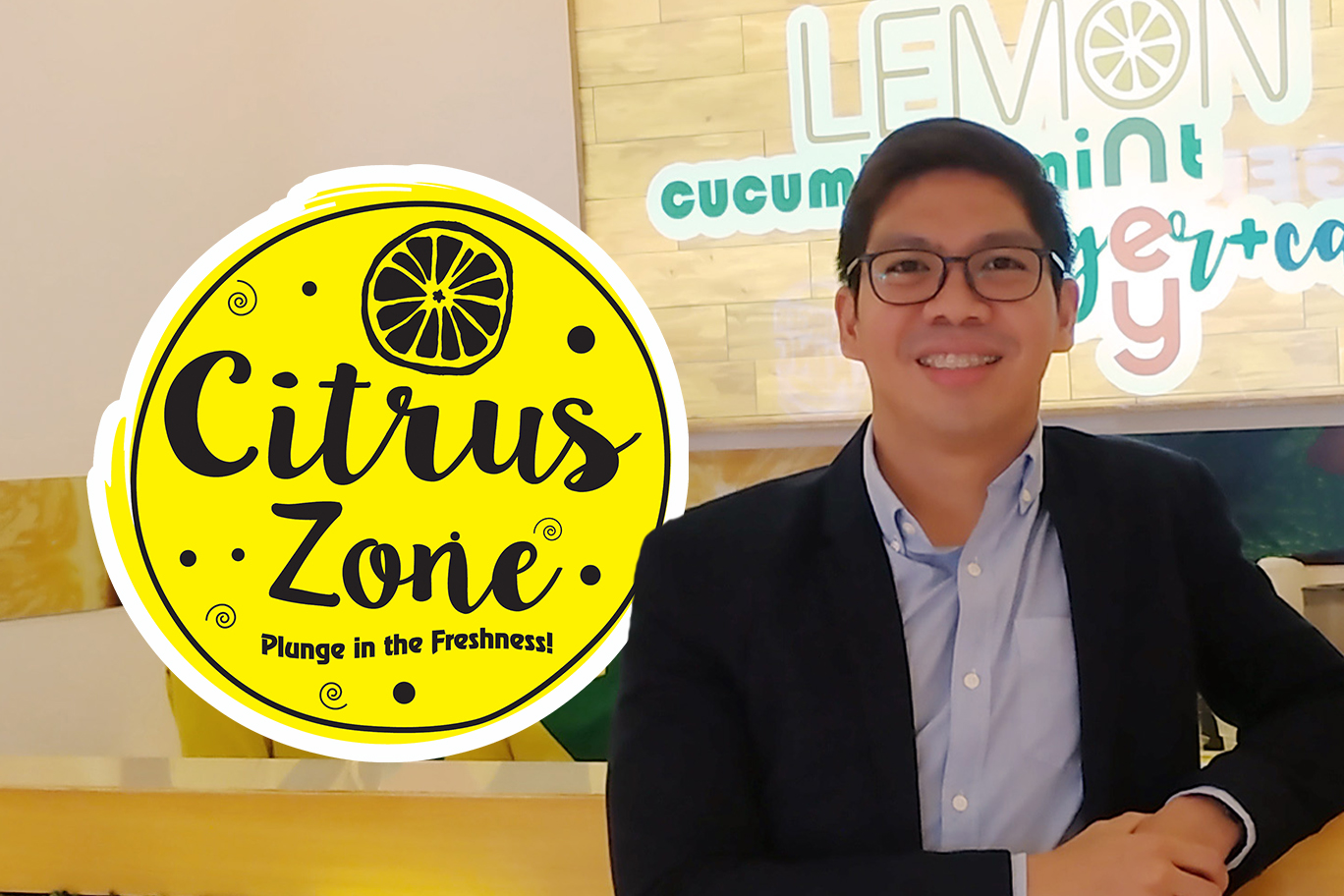 When Don Cenita thought of putting up a lemonade startup, he only wanted to do it as a diversion from his usual eight-to-five office work.
Cenita, who had successful human resource management career, was employed as a general manager for a training company when he conceptualized the business with his two friends, Joanna Dalmacio and Claire Mosquera.
The idea of a fresh lemon juice cart came about after Cenita, in his desire to lead a healthy lifestyle by drinking water lemon, discovered that he could make the taste of lemon juice more palatable by adding a variety of mixes.
Together with his partners, Cenita, who graduated with a degree in psychology from college, developed the business concept called Citrus Zone.
Cenita pitched the business to several shopping malls until, two months later, SM Megamall responded and offered them a site.
Being the only healthy drink option in the food court, Citrus Zone became an instant hit when it was launched in 2015. The leasing team of the mall was so pleased with the results that they started offering Cenita more spaces in other malls.
But he was not ready to expand due to lack of capital. When inquiries for franchising started to come in, Cenita saw the opportunity to award the spaces offered to them as franchise.

Soon, the business expanded quickly the following year. Cenita, who would take turns with his partners in managing their kiosk after office hours during weekdays, eventually decided to quit his day job to focus in growing the business.
Today, three years after the business was founded, Citrus Zone is now the largest lemonade chain in the country with over 80 outlets and growing to 100 outlets by end of this year.
How did Cenita manage to succeed in business despite his lack of experience in entrepreneurship? How did he expand the lemonade business amidst the growing competition in the market?
Here are the five business lessons every entrepreneur can learn from the co-founder of Citrus Zone, Don Cenita:
1. Know how to differentiate and position your brand
One way to build a strong market position for your brand is to find ways to set itself apart from the competition.
Differentiating by emphasizing the unique benefits of the product can easily position the brand in the customers' mind.
"When we started in 2015, most lemonade brands were offering sugar syrup additives," Cenita says. "We offered honey lemon with add-ons such as ginger, cayenne pepper and other natural ingredients, which was very different than what people were used to.
"We also came up with other flavors such as coffee vanilla with lemon since when we opened in 24-hour BPO locations to compete with coffee shops.
"We also developed Lychee Chia flavor which caters to people who want to lose weight by keeping you full throughout the day. Just recently, we also launched our take on boba tea. Instead of drinks full of sugar and syrup, we offered all natural fruits such as calamansi, banana and mango."
2. Know how to innovate without losing your authenticity
When you innovate something, you improve a product that creates value for customers.
While continuous innovation is important to survival in today's competitive market, it is also important that you must not dilute the true quality of the product.
Products with high level of authenticity leads to increased perceived value by consumers.
Share this picture: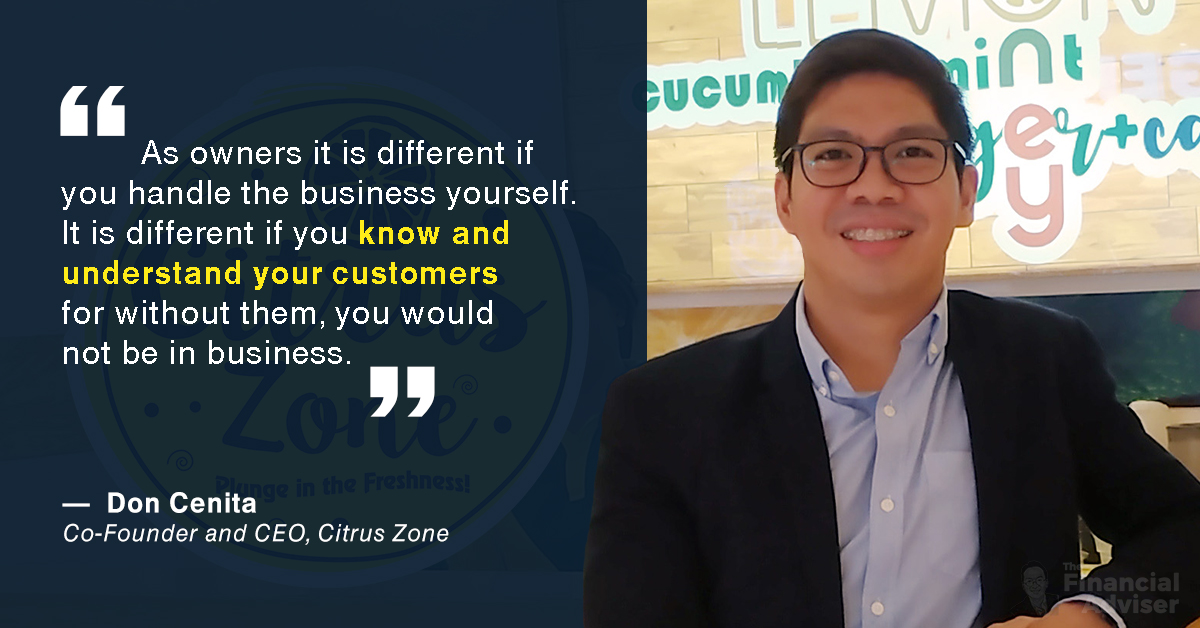 "There are lemonade in the market that comes with strawberry flavor but what they are actually using is strawberry syrup which his high in sugar," Cenita says. "In our products, we use fresh fruits as add-ons and if not fresh, we make sure that its tea-based, for example, apple cinnamon flavor, which allows us to maintain the health benefits of the fruits.
"We also try to maintain the integrity of the lemon in our mixes. When you add additives such as strawberry, you would not taste the lemon anymore but the strawberry.
"In our products, we make sure that you will taste the lemon first before the rest of the flavors start to kick in."
3. Know how to how take care of your customers
Keeping customers is way less costly than attracting new ones. When customers are satisfied with your service, their positive experience can translate to more revenues in the future.
"As owners it is different if you handle the business yourself," cenita says. "It is different if you know and understand your customers for without them, you would not be in business.
"We tell this to all our franchisees that if you are going to open our store, you have to be hands on for at least two months because that's when you will really know the market," he adds.
"We were also able to impress on our crew how we take care of our customers. Our culture in serving customers has helped us in building brand awareness and to this day, we continue to teach our crew about being customer centric as quality policy."
4. Know how to develop partnerships that add value
Creating partnerships with key stakeholders in the business can help you achieve your organizational goals.
By working together, you can develop a sense of shared ownership among stakeholders, which leads to better communication and collaboration.

"When we started franchising, we wanted to start this right," Cenita says. "When people invest with you, they are shelling out their life savings and you can't sell something to them that is half-baked. Kawawa sila.
"We want our franchisees to make money and give them a quality franchise system. Franchisees are not only your clients, they are also your partners for the entire duration of the franchise program. Franchisees carry your brand and your identity. You have to work hand in hand to make sure that your brand is consistent. Essentially we stress to them that we are all owners so we have to make sure that we protect it."
5. Know how to leverage employee strengths for productivity
Hiring employees should not be a "one size fits all" approach. It is essential for you to evaluate first the potential contributions of what the employee can bring to the organization.
"We always say that our crew is our sales driver. If a store is in a good location with high foot traffic but is not performing well, your crew must be the problem," Cenita says.
"When a store is doing well, we normally audit the store and reshuffle our crew because some crew can perform well in certain locations because of market familiarity.
Share this picture: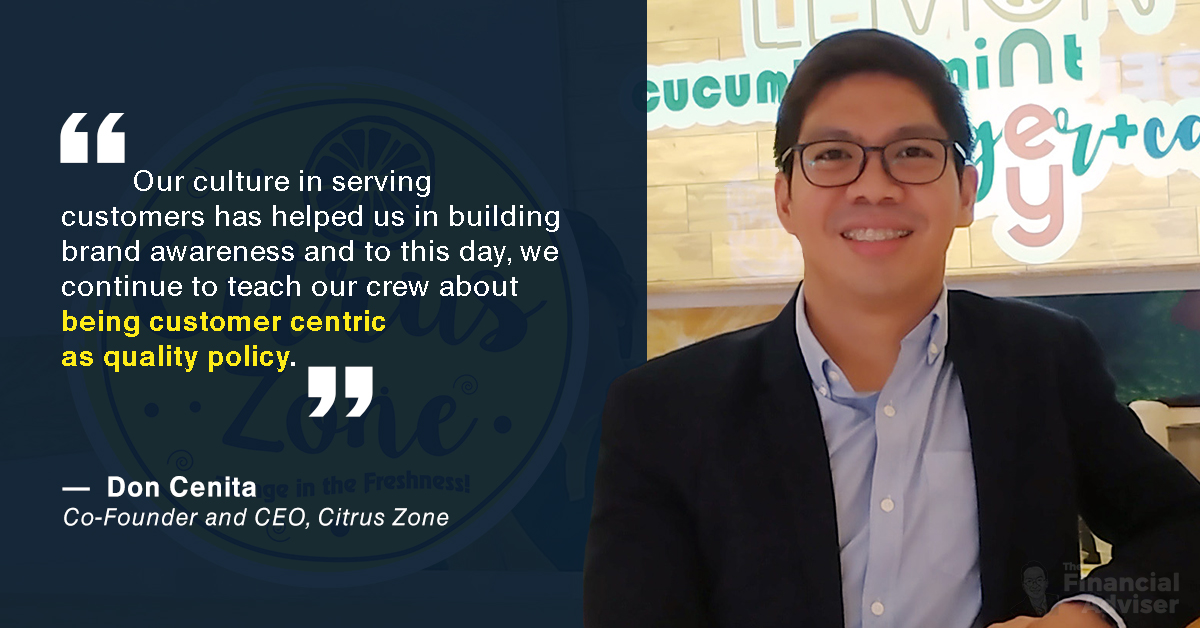 "From time to time, employees also make mistakes or don't do well. We try not to castigate but embrace them and tell them where they are good. We reshuffle and assign them to areas where they can be more productive.
"We believe everyone has limitations. You can only perform using the skills you know. Beyond that, there is nothing you can do. If you ask a fish to climb a tree, the fish can't really do anything but if you put it in water, it can surely do a lot."