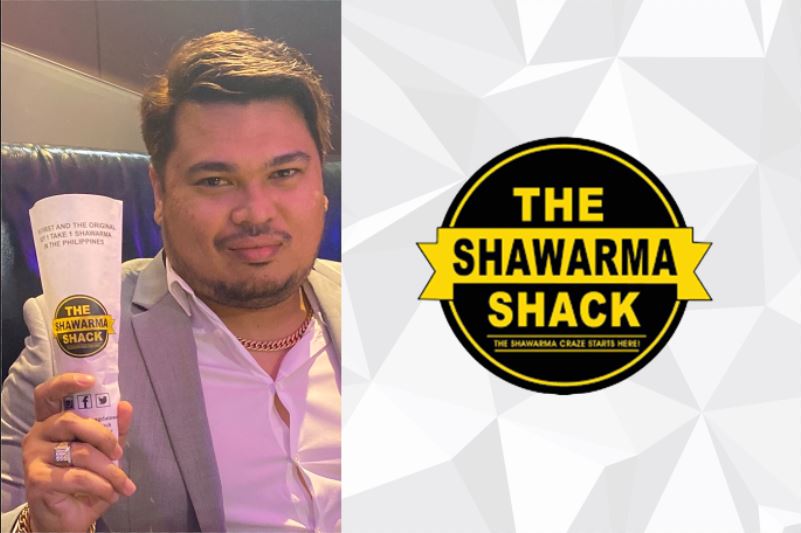 Walther Buenavista only wanted to get a regular job to support his family, but no company was interested to hire him because he did not finish a college degree.
Due to lack of employment opportunities, he and wife Patricia started to explore putting up a shawarma food stand in Divisoria using their limited savings.
Buenavista thought that he could use his baking skills to make pita bread while his wife could help prepare the ingredients and recipe.
Soon, the couple began selling shawarma as an ambulant vendor at the Tutuban night market in late 2014
They would set up their food stand along the street and bring it home when the night was over.
Unfortunately, their venture was not successful.
Daily sales was very low. Buenavista was so disappointed that he wanted to give up. He was already planning to work as a taxi driver, while his wife would get a call center job.
Since it was the Christmas season, they decided to just let the holidays pass before they finally close down. At the time, Buenavista was worried that the excess inventory that they had bought might go to waste if they failed to sell it completely.

So he came up with the idea of trying out a buy one, take one promo offer to help dispose of the inventory. Luckily, the promotion clicked and for the first time, their average daily sales shot up.
Encouraged by the strong sales results, Buenavista decided to continue the business using the same promotion as his marketing strategy.
The business grew and enabled Buenavista to get a real permanent store outlet and expand from there.
Today, Buenavista has over 300 outlets nationwide. He has made The Shawarma Shack the fastest growing food franchise in the country in less than four years
The Shawarma Shack started a buy one, take one promo offer initially to help dispose of the inventory. The promotion clicked and the company is still doing it to this day
How did Buenavista manage to grow a two-people, ambulant food stand in Divisoria into a 600-employee, multi-outlet business in so short a time?
Here are the five startup lessons every entrepreneur can learn from Walther Buenavista, founder of The Shawarma Shack:
1. Staying persistent to achieve your goal
In business, there are many defeats that you may encounter but one thing you must not do is to be defeated.
If you want to succeed, you need to be mentally prepared to deal with the challenges. If you want to achieve your goals in business, you must have the stamina and persistence to see it through.
When Buenavista was slowly expanding the business, he dreamed of opening a store at SM North EDSA. He attempted many times to apply for a location but was always rejected.
Despite this, he refused to give up until he was finally awarded a location.
"I tried to apply for a location at SM but I was rejected 12 times," says Buenavista. "But on my 13th attempt, I was finally accepted.
"The location they gave us was a little bit hot because it was in an open air area and we noticed that most of the tenants there did not last long but we became a top seller and are still there until this day. Because of that, our performance impressed the leasing management who offered us more locations in other malls."
Share this image: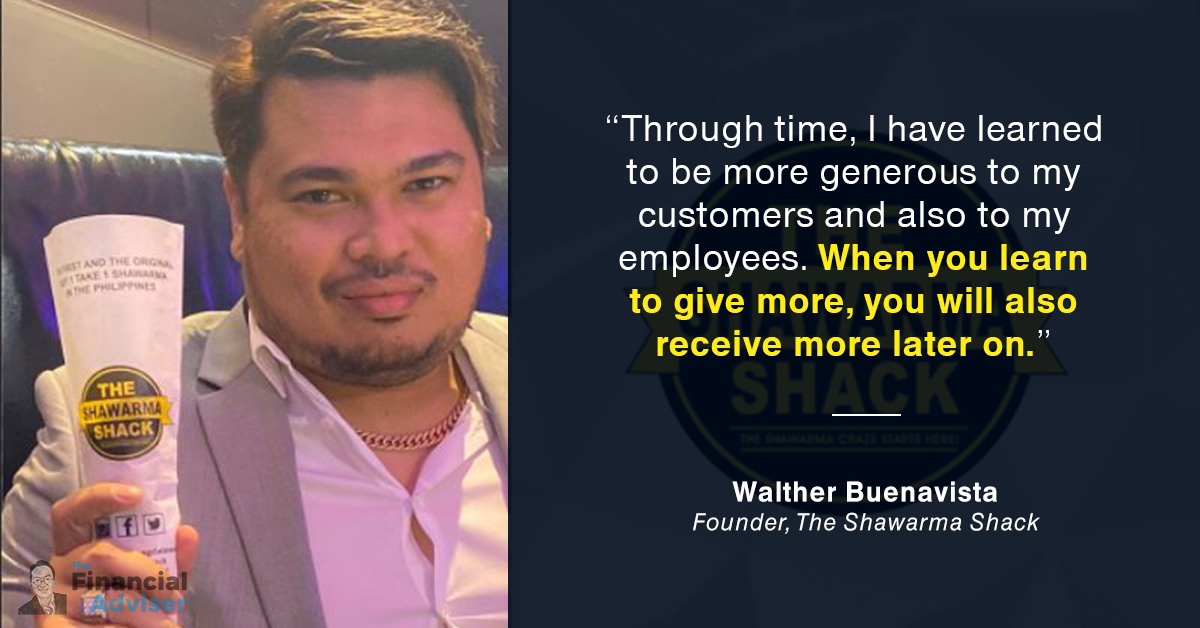 2. Taking risks to move forward
Entrepreneurship is all about risk-taking. If you want to succeed in business, you must be prepared to take risks and the challenges that come with it.
When Buenavista decided to franchise the business, he had no idea that he needed to invest so much money to develop a system. He also never thought that he would be spending a fortune to get celebrities to endorse his product.
But amidst all the objections, he took all the risks, which paid off well.
"We were shocked when we learned about the huge amount we need to spend to develop a franchise system," he says. "I remember my wife was so mad at me and thought that I was going crazy because I was willing to risk our hard-earned savings. But when we started offering franchise, the number of our outlets began to grow very fast.
"When we were still starting, we had a hard time looking for locations because mall leasing would look down on us. We would be embarrassed, belittled or simply ignored, but I accepted all of these. I told myself that someday, they will come to us. When we got Daniel Padilla as our official endorser, all of those who rejected us in the past came back and offered us spaces."
The Shawarma Shack now has about 300 outlets nationwide, most of which are franchised
3. Focusing on things that grow the business
If you want to build and grow a business, you must pour your heart into it. Staying focused on what is important to the business can help you move closer to your goals.
When Buenavista was starting the business, he would spend time studying ways to become more competitive by learning the industry and the market.
"When there is something that I want to learn, I normally try to learn everything about it," says Buenavista. It becomes my obsession.
"When we were starting the business, I wanted to come up with the best shawarma in town. I would move around every corner of Metro Manila to check out every shawarma vendor, taste their products and evaluate their market."

4. Delegating important tasks to other people
It is easy to be distracted when you try to do all the work in running a business. If you want to scale up your business, you need to let go of other responsibilities to people who can help you grow the business.
Buenavista once thought that he could handle everything in the business until he realized that he needed experts to bring his business to the next level.
"There was a time when I thought I could run the business all by myself. I did not want to hire managers because I always thought that I could do it. But I realized that if your business is growing, you need to hire people who have certain expertise that you could learn from and in the process, they could also learn from you.
"Today, I could not say that what we have become was because of me. We have grown from 49 to 300 outlets because of the people that became part of our team."
5. Differentiating by adding value to customers
There is a saying that "if your presence doesn't add value, your absence won't make any difference."
If you want to stand out from the competition, you need to differentiate your products and services. You can do this by understanding what your customers need.
When you add value in the form of better service and higher product quality, you can develop trust and loyalty from your customers, which can help you sustain the business for a long time.
"I used to be very cost-conscious," Buenavista says. "I remember one time I did not want to give tissues to customers because I wanted to save. I realized later on that customers were not coming back because our service was poor.
Share this image: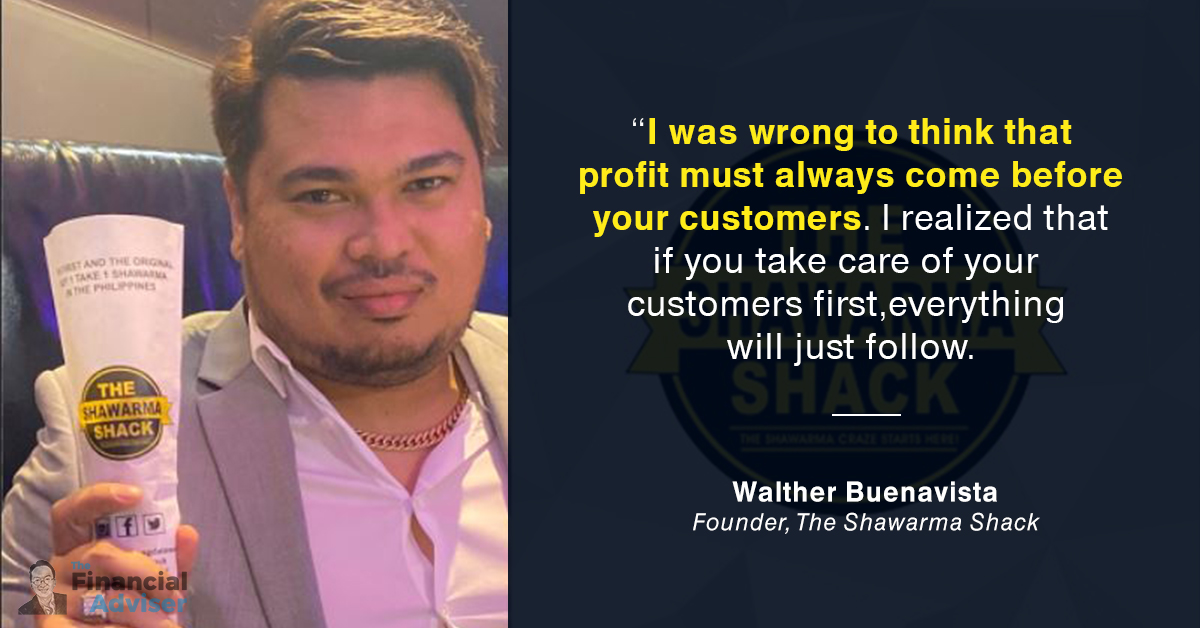 "I was wrong to think that profit must always come before your customers. I realized that if you take care of your customers first, everything will just follow.
"Through time, I have learned to be more generous to my customers and also to my employees. When you learn to give more, you will also receive more later on."