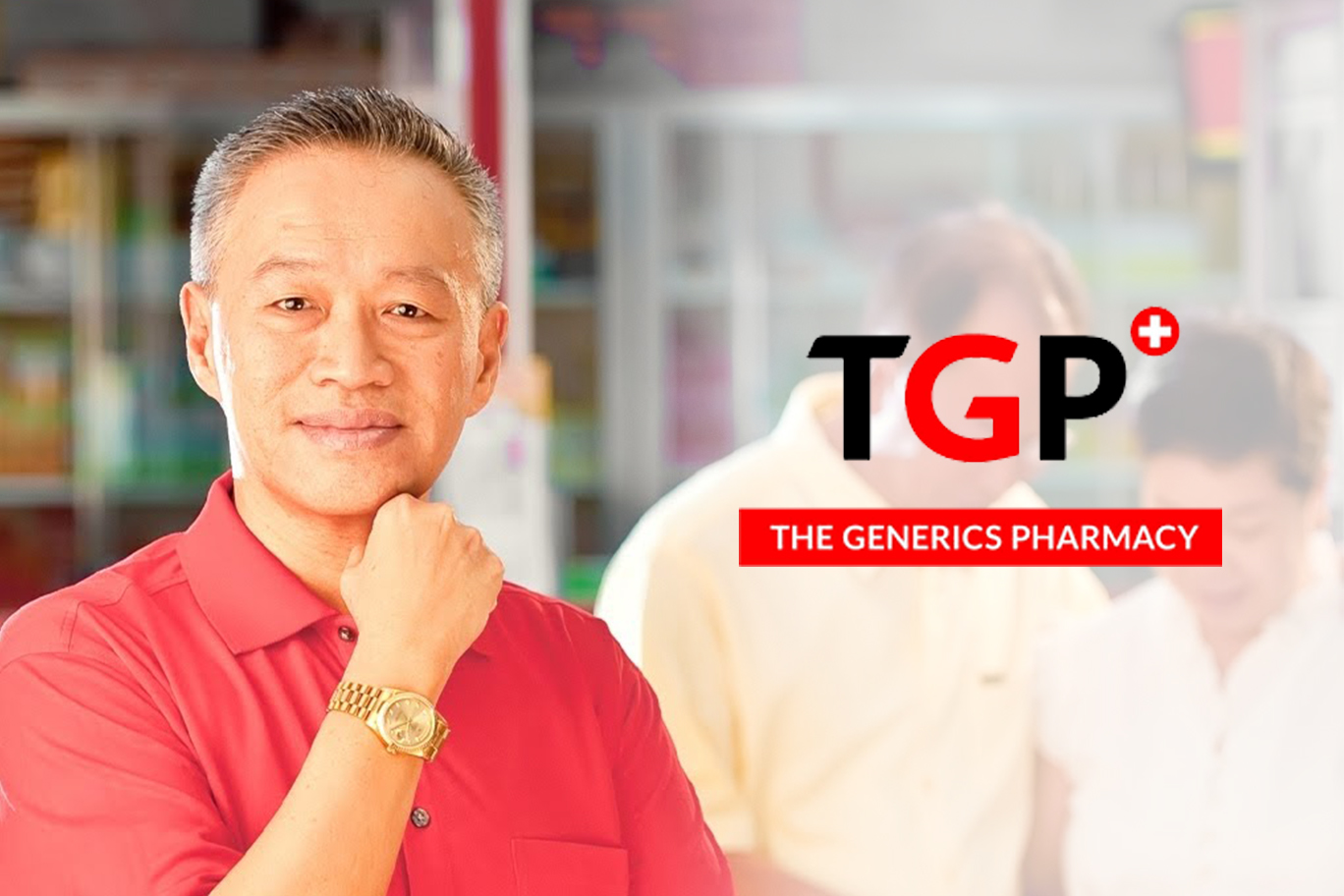 Success in business has no age limit. If you have the right mindset and commitment to follow through, no matter how many times you failed in business, you are never too old to start all over again until you succeed.
Such was the case of Benjamin Liuson who was already semi-retired at 58 years old when he came up with the big idea of expanding his business, The Generics Pharmacy, by franchising in 2007.
Liuson, who inherited the pharmaceutical distribution business from his family in the early 80s, had his share of failures. For decades, he has been battling the stiff competition from the large pharmaceutical companies to survive.
Liuson never thought of expanding the business as he was already preparing for his retirement. He was slowing down at work by coming to the office only twice a week until one day, he chanced upon an advertisement in the newspaper about a seminar on franchising a business. Out of curiosity, since he has nothing important to do at that time, he attended the seminar and the rest as they say is history.
Today, in a span of just less than 10 years, Liuson has built The Generics Pharmacy to be the largest drug store chain in the Philippines, with over 1,800 outlets nationwide.
How did he grow the business so fast? What were his early challenges and strategies? Here are the 5 business lessons every entrepreneur can learn from The Generics Pharmacy founder, Benjamin Liuson:

1. Build a compelling value proposition to become competitive.
When Liuson was managing the family business, they used to follow the typical business model of a pharmaceutical company. They would hire sales representatives and train them for two to three weeks. They would also hire marketing managers and supervisors, and give samples to doctors.
They soon realized that their model was not working because they could not compete well. They ended up having their best sales people also pirated by their competitors. In order to stay competitive, Liuson removed all middle management and sales people and passed on the savings to customers through lower prices, which were marked down by as much as 80 percent.
The low pricing strategy resulting from the reorganization in the company has enabled Liuson to create a compelling value proposition, which helped his business to endure the heavy competition for years.
Creating a value proposition is an important element to a business success because this is the reason why your customers will buy from you.
2. Build a strong niche market to gain market acceptance.
The greatest challenge Liuson faced when he was distributing generic medicines was consumer acceptance. At that time, it was very difficult to penetrate the market due to inadequate information about generic drugs and lack of support by healthcare professionals. Because of this, patients would normally prefer branded ones, albeit more expensive, for safety issues.
But Liuson refused to be discouraged. He instead focused his efforts in creating a market niche by selling to a specific market, mostly poor patients who cannot afford to pay for branded medicines. He positioned his products as having the same quality in terms of dosage and strength as the branded ones, but at cheaper prices.
Through customer testimonials and endorsements, Liuson was able to develop a strong clientele from the provinces. Soon, demand for generic medicine has grown, which has offered Liuson the opportunity to expand from niche to mass marketing.
3. Build a competitive advantage by securing strategic locations.
Realizing the need to increase accessibility of his retail outlets, Liuson wanted to expand fast to discourage potential copycats that may enter the competition. And the only way he can do this without the hassle of investing large capital expenditures and dealing with increasing operational issues from expansion is through franchising.
Liuson offered to franchise his only retail outlet in Quezon City, The Generics Pharmacy to the public in 2007. Right after the franchise offer was launched, The Generics Pharmacy immediately grew to over 900 outlets nationwide in just three years.

4. Build succession plan to ensure business continuity.
Every business owner at some point of his life has to leave the business. When he leaves without a clear succession plan in place, the future of how the business will be managed will always be at risk. It may create uncertainties to employees and management, as well as suppliers and partners of the business.
Liuson has the foresight to prepare his succession plan ahead by offering to sell 51 percent of the business to the Gokongwei group which took control of the company last May 2016. With the sale, Liuson ensured that the company will continue to be managed professionally if anything happens to him in the future. The partnership will also provide the company opportunities to expand within the Robinsons Retail group as well as maximize the long-term value of the business.
5. Build your relationship with the One who gives you the ability to create wealth.
One of the most favorite verses of Benjamin Liuson is Deuteronomy 8:18, which says "You must remember the Lord your God, for he is the one who gives the ability to get wealth…" Liuson acknowledges that whatever success he is enjoying now, it has been possible only because the God of Israel has blessed him with the ability to make money and grow his business.
To show his gratitude and love for God, Liuson always makes the effort to give back by helping the poor and providing scholarship grants. In fact, he has made this part of his corporate social responsibility.
Liuson believes that his existence in the business has a purpose, and it is to help improve the lives of Filipinos by making cheaper medicines accessible to all.