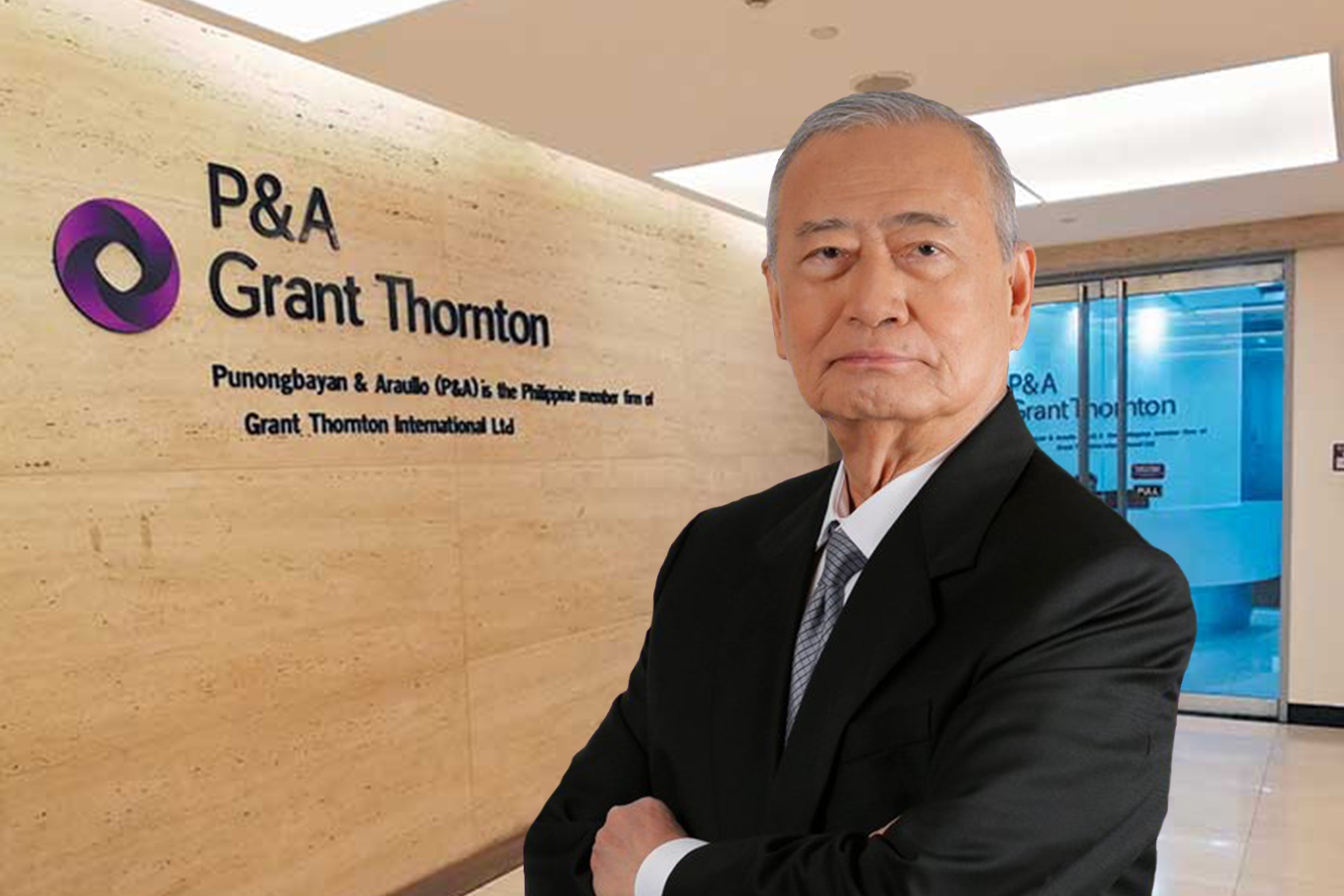 It is never too late or too old to start up a business when there is desire and determination to succeed.
Benjamin Punongbayan was already 50 years old when he resigned as a partner and head of audit division of SGV and Company, whom he worked for 30 years, to pursue his dream of having his own accounting firm.
Punongbayan, who completed his accounting degree while working part-time as a telegraph operator, invited his friend and contemporary, Joe Araullo, who was heading a large savings bank at that time, to join him.
In 1988, the two founders organized the accounting firm called Punongbayan & Araullo with only seven people. It was not an easy journey in the beginning as the firm tried to build up their client base from ground zero amidst rising competition.

But Punongbayan was unfazed by the challenge of growing the business. He believed that his long experience in the practice has prepared him to succeed. Over the years, Punongbayan slowly expanded and made the firm to be a major force to be reckoned with.
Today, 30 years after the firm was founded, Punongbayan & Araullo is one of the most reputable and top five biggest accounting firms in the country with close to 1,000 staff.
How did Punongbayan manage to compete with the giants of the industry to become one of the largest firms today? How does he plan to sustain the growth of Punongbayan & Araullo in the future?
Here are the five management lessons every entrepreneur can learn from Benjamin Punongbayan, the founder of Punongbayan & Araullo:
1. Attract and keep the right people
Hiring the right employees is crucial to the success of a thriving business. A business is only as good as its people. While it may not be possible to find employees with ideal talents, you can find people whose abilities can be nurtured.
"The way I saw it at that time, we needed to play at high level to compete with the big firms," Punongbayan says. "You got to prove that what you are doing is reliable, but in order for you to do that, you have to get good people. The quality kind of work cannot be done by the mediocre type so we really had to compete in recruiting only the best.
"The first year after we set up the firm, we were able to get several placers in the CPA board examinations. Since we have been trying to hire good entry-level staff, we really worked very hard in courting them. Once we hire them, we nurture them so they can grow."
2. Empower people with right skills
Investing in people keeps employees engaged and productive. Training enables employees to take on greater responsibilities and handle more challenging projects. Investing in employee development not only helps in attracting good talent but also in preparing future leaders in the organization.
"We developed our in-house training program where we subject our staff to train every year," Punongbayan says. "We also sent quite a number of people to the US for training. There are two things we try to achieve. One is training on the technical side and the other is to build our credibility to clients.
"We select outstanding staff with three to four year experience and send them to a two-year MBA program. We try our best to train them well by exposing them to business school because our people are like merchandise that we are trying to sell to clients. If you want to provide good service to clients, you must have good people."

3. Teach people to provide quality customer service
Providing customer service to clients is more than being courteous. It is about making sure that clients feel they are valued and treated fairly. Customer service can affect the reputation of a company, which can impact profitability.
"As a service provider, our clients expect us to be responsive. If client needs you to be there, you must be there. You try to serve your client well by listening to their needs so we try to ingrain in our people's mind the importance of being responsive
"In fact, we have rules about it that if there is a request from client, you must answer it right away. If you cannot give a full answer then tell them when you can give a definitive answer. But respond to it. That's a competing factor we have to recognize.
"Quality is difficult to define but the final test will always come from the client community. We make sure that we follow certain standards and principles. We make use of our affiliation with international networks to access best practices developed by members around the world. We simply adapt the step-by-step procedures to local conditions."
4. Align people based on shared values and culture
Company culture must align with the vision and goals of the company. When employees believe in the culture, they are more motivated to help the company achieve its goals.
"The person you are taking from the outside may be good but he may not be able to adapt to the existing culture," Punongbayan says. "That's a very important factor to consider. This is why before we promote someone to become a partner, the person must have worked in the firm between 10 to 14 years, and that's a very long time.
5. Select the right people to lead in the future
An effective succession plan is a process that identifies and trains promising employees to step into leadership positions. Every company must create a succession plan that meets the organization's needs and long-term business strategy.
"This is normally the problem with the old generation," he says. "If you are only looking at your progress within your lifetime, you will not last for a long time because once you are no longer productive, the business also suffers. If you want it to sustain the business for the long-term, you need to attract good people so that they can take the lead when the older people drop out.
"We have performance evaluation every year. We will know who among our people has the capability to lead in the future. A good technical guy is not necessarily a good managing partner. A managing partner should be able to manage and lead.
Share this picture: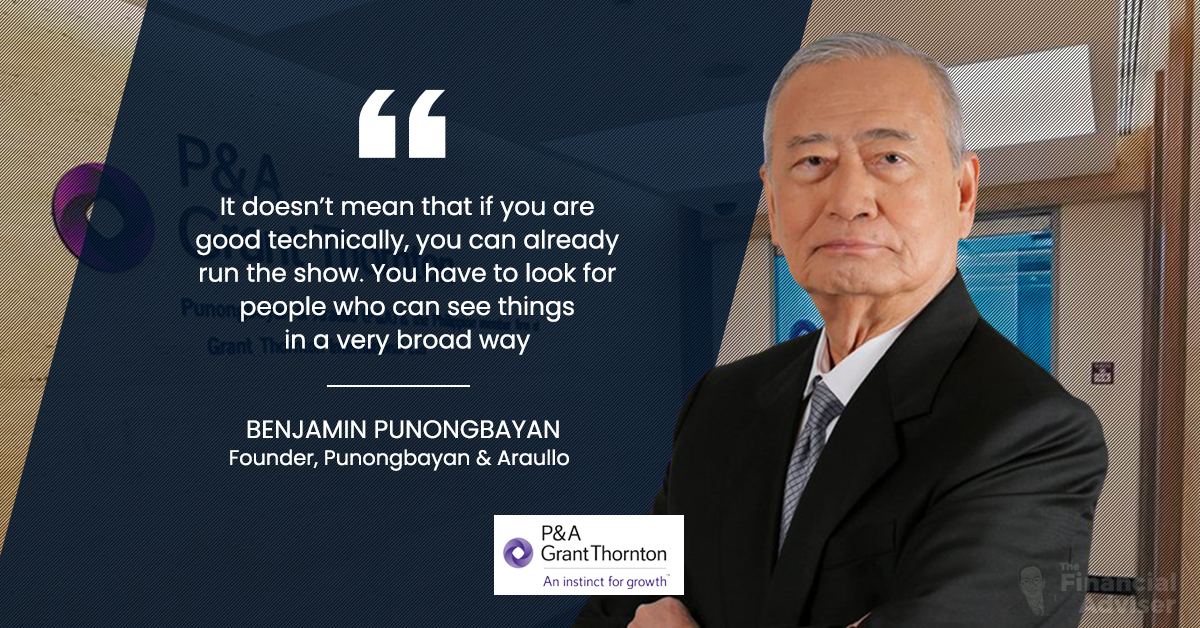 "It doesn't mean that if you are good technically, you can already run the show. You have to look for people who can see things in a very broad way, who can move people to work, who is respected, that's not easy but at the outset, we always try to look for these kind of people."